Denise Coyle
Full Name:

Denise Coyle

Citizenship:

Scottish

Date of Birth:

April 19th, 1982

Place of Birth:
Occupation:

Barista at the Beanscene café bar

Known Relatives:

Jackson Coyle (father)
Deana Coyle, née Siebel (mother)
Denise Coyle is Ethan McBride's bossy and overprotective best friend. She is the barista at the Beanscene café bar located in the Tower Mill entertainment centre in the Heart of Hawick in Hawick, Scotland. She is a devout Christian who only wants Ethan to find happiness.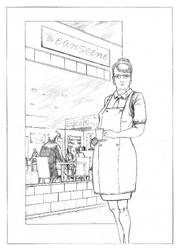 Ad blocker interference detected!
Wikia is a free-to-use site that makes money from advertising. We have a modified experience for viewers using ad blockers

Wikia is not accessible if you've made further modifications. Remove the custom ad blocker rule(s) and the page will load as expected.